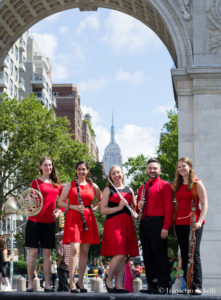 Washington Square Winds, a New York-based woodwind quintet, was formed in 2009 by five classically trained musicians passionate about chamber music. Its mission is to seek out, perform, and commission new works, expanding the wind quintet repertoire. The ensemble strives to collaborate with composers of the present generation and cultivate appreciation for contemporary classical music in our communities.
In its original series, "THEY'RE ALIVE!," dedicated to showcasing new works written exclusively by living composers, Washington Square Winds provides opportunities for composers to hear their own music performed live and exposes audiences to music composed during their lifetime. Premieres have included Rex Isenberg's The People's Park and Enrico Arcaro's Monograph, which were composed specifically for the ensemble, as well as Charley Gerard's Hangin' Out, Max Orland's Dogfight, Nicholas Hall's Whirlwind, and Dean Rosenthal's I Think So, Too, which he arranged for the ensemble. WSW's first professional album, also entitled, "THEY'RE ALIVE!" was released in September 2014 and includes incredible works by four living composers.
In addition to focusing on compositions and composers from their generation, Washington Square Winds takes an active role in working with the next generation of musicians. In the 2011/2012 academic year, the ensemble volunteered as the Woodwind Quintet in Residence at the Third Street Music School Settlement, where they attended weekly Orchestra rehearsals, dress rehearsals, and performances, acting as mentors and role models for the students. The quintet also co-created an interactive children's show based on Sergei Prokofiev's Peter and the Wolf, which includes a puppeteer, narrator, and costumes for the musicians.
After a competitive audition process in 2012, Washington Square Winds was chosen to become part of "Music Under New York (MUNY)," a select group of ensembles given the privilege to perform in the city's subway systems. They play in stations such as Grand Central, Times Square, Columbus Circle, and Penn Station, hoping to reach as many people as possible with their love of chamber music. In 2015, they were interviewed by WQXR and Dan Dunford's Divergent Paths, and love collaborating with other musicians, such as Oracle Hysterical, Musical Amoeba, and the Balliett Brothers. The quintet has performed at various venues in New York City, such as Spectrum, Caffé Vivaldi, Cornelia Street Café, The New Museum, Lenox Hill Settlement House, LIC Bar, and Googie's Lounge above The Living Room, as well as in New Jersey and Long Island, and of course their namesake, Washington Square Park.
*Click Here to download our Electronic Press Kit: Press Kit Summer 2016
Caryn Toriaga, Flute
Caryn Toriaga, grew up in Saratoga Springs as a classically trained flutist. Toriaga discovered her passion of contemporary music in her first semester at SUNY Fredonia after joining its Wind Ensemble. At Fredonia, Toriaga was a member of Ethos New Music Society, whose goal is to advocate contemporary concert music in Western New York State. After moving to New York City for graduate school at NYU, Toriaga continued performing new music. Standout performances include Piece for Flute and Interactive Computer System by Robert Rowe, and multimedia work, Speak, premiered at the Apollo Theater and written by MTV Movie Award nominated filmmaker and composer, William Caballero.
Toriaga won the NYU Concerto Competition with Lukas Foss' Renaissance Concerto for Flute and Orchestra, a piece written in 1990. She performed this work with New York University's Repertory Orchestra in October 2010. Toriaga is also a founding member of the Washington Square Winds woodwind quintet.
Toriaga holds a Master of Music from New York University and graduated Summa Cum Laude from SUNY Fredonia with a Bachelor's of Music with Performer's Certificate Award. Her teachers include Brad Garner, Robert Dick, Jan Vinci, Susan Royal and Marlene Witnauer. In addition, Toriaga earned a bachelor's degree in Music Business while at SUNY Fredonia with a minor in Arts Administration.
Visit her personal website at: http://www.carynfreitag.com/
Gregory Weissman, Oboe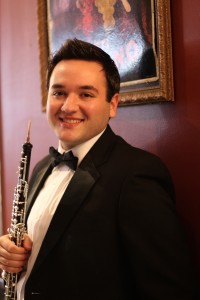 A native of rural Northern New York, oboist Gregory Weissman was selected by state and regional committees to perform in distinguished honorary orchestral and wind ensembles in Rochester, NY and Providence, RI, all before entering academia. At the same time, he attended the New York State Summer School for the Arts School of Orchestral Studies for two consecutive summers in Saratoga Springs, NY, under the tutelage of the Philadelphia Orchestra's musicians. He obtained his Bachelor's of Music in Oboe Performance and a second in Music Education from the Crane School of Music at SUNY Potsdam, after which he completed his Master's of Music in Oboe Performance at Mannes School of Music. As a personal project, he studied baroque oboe privately and attended the Tafelmusik and Oberlin Baroque Performance Institutes. He has performed with the Orchestra of Northern New York, Northern Symphonic Winds, One World Symphony, Adelphi Symphony Orchestra, York College Theater, Queens College Orchestra, Camerata New York, the Astoria Choir, and The Chelsea Symphony, with whom he soloed in Mozart's Concerto in C Major for Oboe and Orchestra and Sinfonia Concertante in E flat Major, and Copland's Quiet City. He was a resident young artist at the inaugural Lake Tahoe Music Festival Orchestra Academy in 2010, has made solo appearances at The Whitney Museum, The Choral Society of the Hamptons, Music at the Gate, and Bach Week at Westminster Choir College, and has premiered several works with the New York Composers Circle. Gregory's teachers include Geoffrey Burgess, Anna Hendrickson, and Sherry Sylar.
Elyssa Plotkin, Clarinet
Elyssa Plotkin, clarinet, founded Washington Square Winds in 2009 and has been managing the ensemble ever since. Elyssa earned her BA in Clarinet Performance from Dickinson College, where she also started a woodwind quintet and clarinet ensemble, as well as played principal clarinet in the Dickinson College Community Orchestra. Realizing that running an arts organization was just as exciting to her as playing with one, Elyssa moved to New York City and got her MA in Performing Arts Administration from NYU. There, she was able to work with the Chamber Music Society of Lincoln Center, the New York City Opera, and the Lyric Chamber Music Society of New York. Elyssa was one of the 13+ clarinetists who performed with Michael Manning's Clarinet Ensemble. Recent teachers include Elisabeth Stimpert (Alarm Will Sound) and Romie de Guise-Langlois (Chamber Music Society of Lincoln Center). Elyssa is currently the Executive Assistant at JCC Manhattan.
Allison Nicotera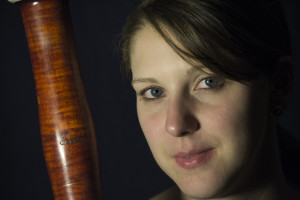 A versatile freelance musician, bassoonist Allison Nicotera enjoys a busy performance career in and around New York City. An avid chamber musician, passionate orchestral player, and a champion of new music, Allison brings an impassioned vigor to all she does. At ease in both solo and collaborative settings, she is a winner of two concerto competitions and her playing experiences have brought her across the United States, Canada, and Europe with ensembles such as The Juilliard Orchestra, AXIOM, the Moritzburg Festival Academy, The Hartt Symphony Orchestra, and The American Wind Symphony Orchestra.
Allison holds a Master's Degree from The Juilliard School as well as a Bachelor's Degree from the Hartt School of Music. Her principal teachers were Patricia Rogers, Principal Bassoon of the Metropolitan Opera, and Marc Goldberg of the New York Wind Quintet. When she's not practicing, making reeds, teaching private lessons or rehearsing with one of the many ensembles she performs with, Allison enjoys spending time with her husband, hornist Bert Hill, and taking long walks with their dog, Clara Schumann.
Casey Cronan, Horn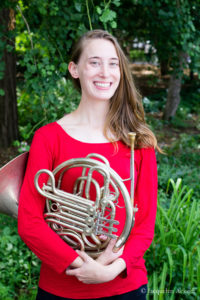 Casey Cronan, of Milford, CT, holds a bachelor's degree in French Horn Performance from New York University and studied at the ACES Educational Center for the Arts in New Haven, CT. She has performed with the Richmond County Orchestra and has performed in the pit orchestra of Loft Opera's inaugural production, Don Giovanni. In Fall 2014, Casey performed in the launching ceremony for the Shenzhen International Short-Film Festival at the United Nations. Casey is a founding member of the WorldWinds Quintet, which was an Ensemble in Residence at Hunter College in Spring 2014. With WorldWinds, Casey performed in the Brooklyn New Music Collective, premiering a quintet by Michael Rose. This Fall, Casey will be performing with the Park Avenue Chamber Symphony and with the New York Opera Exchange. She has studied with Joseph Anderer, Vladimira Klánská, and Ann Ellsworth.